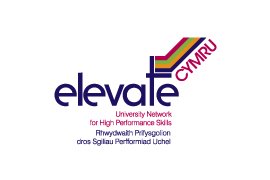 Cymorth Llaw Senior Care staff will this week complete an ILM training program.
Working with Bangor University and Elevate Cymru at Cymorth Llaw's Care Worker Training Centre in Parc Menai Bangor, staff from the family care provider completed a program of learning that covered various subjects within the leadership and management field, giving Senior Care Workers at the agency further insight into best practice of people management.
Business Development Manager Craig Hogg commented, "This has been one of many ILM topics we have run here over the years. The level of tuition from Elevate was excellent. It was a good example of another solid learning program and one that we at Cymorth Llaw pride ourselves on. Staff have learnt much from the Elevate program and the skills and knowledge they attained will help them further in their role as senior a Care Worker or as a line manager."
The Bangor based care agency is one of the county's largest employers in the sector and continues to grow at an exceptional rate, providing a vast amount of weekly care to people at home and offering new recruits the prospect of secure and long-term employment, as well as a progressive career pathway in Social Care work.
Craig continued "We don't make promises we can't keep when recruiting new people at Cymorth Llaw. We are able to offer staff the hours of work they want, competitive pay that isn't subject to any terms or conditions and a full training and support program.
"Staff at our agency are provided with QCF Diploma tuition at various levels and subject areas, Welsh language tuition for non-Welsh speaking staff, a Carer Cadet program for young Care Workers and a training and development program that covers every subject area our people need to deliver the best possible care at home. There is no comparison to the training we provide people with when it comes to working in home care and our inspection reports give justice to that."
Craig finished "Working with Elevate has just been brilliant and we thank them sincerely for the high standard of tuition they have delivered for us, we very much look forward to working with them and Bangor University again in the future."